Sustainability Essity

We are commited to your well-being.
Essity is a leading global hygiene and health company. We are dedicated to improving well-being through our products and services. Sales are conducted in approximately 150 countries under the leading global brands TENA and Tork, and other strong brands, such as JOBST, Leukoplast, Libero, Libresse, Lotus, Nosotras, Saba, Tempo, Vinda and Zewa. 
Essity has about 46,000 employees. Net sales in 2019 amounted to approximately SEK 129bn (EUR 12.2bn). The company's headquarters is located in Stockholm, Sweden, and Essity is listed on Nasdaq Stockholm. Essity breaks barriers to well-being and contributes to a healthy, sustainable and circular society. For more information, visit www.essity.com.
CLIMATE
Essity recognizes that we are part of something much bigger. We contribute to the battle against climate change; reducing greenhouse gas emissions through greater use of renewable energy and energy efficiency programs. 
These are some of our initiatives:
In 2018, 76% of our wood-derived fiber was sustainably sourced and FSC certified.
60% of all waste is recovered from our parent company's production plants, then transformed into materials or energy.
We have strict procedures in place to guarantee that all the materials and chemical products we use are safe for our consumers, employees and the environment. 
To produce our Ultrathin products, we use less material and resources without changing the product's functionality, security and quality. 
One of our biggest commitments is to the Ellen Mc. Arthur Foundation with which we aim to reduce plastic waste, improve our materials recyclability and use more recycled plastic. Our commitment is that 100% of our plastic packaging will be recyclable and increase the use of recycled plastic to 25% by 2025. 
Have you heard of cross contamination? It's when harmful bacteria is transferred from a contaminated environment to a clean one. To avoid this problem, we've added adhesive to the border of all our pads packaging so they can be easily discarded avoiding the spread of diseases.
SUSTAINABLE DEVELOPMENT GOALS
Through our business operations and expertise, we are committed to supporting the delivery of the SDGs. This creates business opportunities for Essity while contributing to a better world. Innovations, partnerships and new ways of thinking are essential. By partnering with others who share the same challenges and opportunities, we will create synergies that contribute to the achievement of the SDGs. 
We believe that work aimed at fulfilling the SDGs will make the world a little bit better at the same time as they create good business opportunities for companies around the world. Not least in the fields of health, hygiene and sanitation, where we have outstanding expertise. We are determined to do what we can to contribute to achieving the 17 SDGs. 
The prioritized SDGs are: 3. Health and well-being, 5. Gender equality, 6. Water and sanitation, 12. Sustainable consumption and production, 13. Climate action and 15. Life on Land.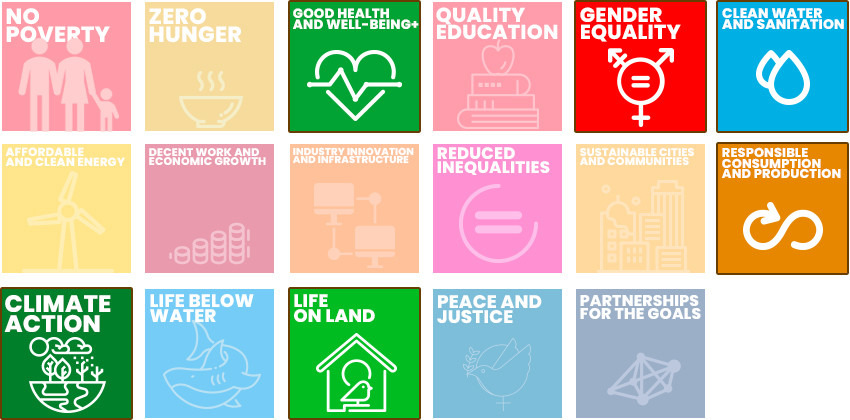 Goal 3: Good health and well-being 
Enable more people every day to enjoy a fuller life by offering access to sustainable hygiene and health solutions and providing hygiene and health education.
Goal 5: Gender equality 
Breaking taboos around issues like menstruation and incontinence. Enable those affected, such as women, girls, men and care-giving relatives, to fully participate in society. 
Goal 6: Clean water and sanitation 
Improve access to sustainable hygiene solutions where needed. Aim for efficient water management throughout the whole life cycle. 
Goal 12: Responsible consumption and production 
Contribute to a sustainable and circular society. Ensuring resource efficiency, product and service design with a life cycle perspective. We want to continuously improve the sustainability profile of our innovations and secure safe, environmentally and socially sound materials in our products. 
Goal 13: Climate action 
Focus on carbon reduction throughout the life cycle, from responsible forest management, to energy in supplier's and Essity production, to the products we deliver to our consumers and customers. 
Goal 15: Life on land 
Responsibly use of fiber and other materials from sustainable and renewable resources. Essity is committed to responsible forest management and to preserve the biodiversity of our forests. 
The United Nations Sustainable Development Goals, SDGs, (also called the 2030 Agenda for Sustainable Development) are a plan of action for people, planet and prosperity. There are 17 goals, each with a number of targets that are continuously followed up. The goals and targets are aimed at stimulating action over the years until 2030 in areas of critical importance for humanity and the planet. 
The SDGs were adopted by the UN in 2015.
Our goal at Saba® is to keep offering better and more sustainable health and hygiene solutions. 
We believe innovation is a source of well-being. That's why we have implemented innovative initiatives that benefit our climate, society, health, and wellness. 
By reducing our ecological footprint, championing gender equality, introducing innovative products, and investing in the emotional and physical health of girls and adolescents, we are contributing to a healthier and more comfortable future for everyone. 
We're proud to share some of the innovative solutions we've implemented recently:
In 2018, Essity launched 29 innovations on a global scale, 59% of which resulted in social and environmental improvements. 
We aim to be ahead of innovation in feminine care and hygiene. We have the only feminine pads equipped with SecureFit™ technology which provides a more comfortable fit to keep consumers protected from leaks. 
Saba® was the first brand in the Americas to develop adhesives applied along the edges of our individually wrapped feminine pads to allow for more hygienic disposal, which in turn reduces the spread of germs and disease.
EDUCATING TO BREAK BARRIERS
GIRLS AND TEENS
In the last 5 years we've educated over 360,000 women and girls about menstruation, intimate hygiene, violence prevention, bullying and puberty. Through multiple initiatives, our aim is to break taboos and open a safe space for education. Learn about some of our efforts:
Our campaign with UNICEF, #HablemosTodo, aimed to spark dialogue and empowerment for women and girls in Mexico. We included messages on our packaging that encourage girls to talk about difficult things with their friends and mothers in order to normalize those important conversations. More than 7.5 million people were reached through social media and other channels, and approximately half of them were teenagers. 
Thanks to our program "Mundo Saba Teens" we've impacted over 360,000 girls in 680 schools in Mexico by breaking taboos around menstruation and hygiene.
In 2015 we launched a guide for Parents and Teachers in Mexican schools, which aims to educate and support them about menstruation and hygiene. 
We also worked together to bring feminine care products to several charitable organizations, including: Fraternidad Sin Fronteras, Fundación Inova Contigo, Alimentos Para Todos, Fundación Hogar Dulce Hogar, Centro de Atención a la Discapacidad Infantil la Gaviota, Laberinto de Sonrisas, among others. 
The campaign "Bullying for Loving" reached 60 million girls in 8,500 schools in Colombia. 
Through the "Hygiene is Our Right" Program, we've educated over 70,000 girls and women in Latin America on the importance of proper menstrual hygiene habits - including, handwashing and clean and safe restrooms in schools. Over the next 3 years, we'll be educating over 4,000 students and 500 teachers and parents. 
In August 2020, we teamed up with El Salvador Foundation to support their Back To School drive-thru event in LA. We gave away over 1,000 boxes including more than 226,900 Saba® products. These were handed out during the drive-thru to more than 5,000 vehicles and reached hundreds of teens and women in need. 
Since 2018, we've shared our knowledge and experience about the importance of hygiene and health through our program Educational Volunteers. This program educates children, teens, parents and teachers in the Latin American communities in which we operate. Our aim is to educate about menstruation, incontinence, the importance of washing and drying your hands, wound care and thorough hygiene.
Well-being
Well-being is about how we care for people. For us at Essity, well-being is the healthy state of both mind and body. We enable more people every day to live a fuller life together with families, friends, colleagues and in society.
We differentiate our offer by: Caring and Daring to act boldly on social issues that others fear to champion. This means our company values drive us to go further than others. To improve well-being, we are willing to broaden access to hygiene and health solutions and tackle harder social issues where attitude and behaviors may be more difficult to change, e.g. speaking openly about menstruation, removing the stigma of incontinence, etc.
We are willing to be more daring in what we say and to support this with innovative products and services that improve quality of life.
Our 2030 goal is to improve people's well-being every single day.
More from less
More From Less is how we commit to sustainable consumption. For us at Essity, more from less means innovating how we meet consumer and customer needs. We continuously reduce resources in the whole life cycle of our products and services.
We differentiate our offer by: Building value using less by enabling behaviors that support sustainable consumption. This expresses that we commit ourselves to making sustainable consumption an easier decision for people. For Essity, it means that we want to change attitudes and encourage new behaviors – seeking to create more value from less resources, fewer products and supporting services.
Our 2030 goal is to create better solutions with less environmental impact. 
Circularity
Circularity is about our ambition to design products and solutions that fit into a circular society.
The challenge of achieving true circularity is highly complex and involves many different parties before, during and after use of products. It is about exploring re use, renewable and/ or recycled materials and  waste management systems such as recycling (or composting for tissue). Essity's distinctive culture of collaboration and partnership therefore gives us a real edge in addressing this challenge.
Our 2030 goal is to improve people's well-being every single day.